Rainwater Harvesting Screens
Hydroscreen has developed and patented the perfect solution for screening rainwater prior to its collection in cisterns. Our rainwater harvesting screens utilize proven tilted wire wedgewire screen technology to remove debris and sediments larger than 150 microns.
The units are self-cleaning, easy to install, and cost-effective. They are sized to accommodate domestic and industrial applications with flow ranges up to 1,000 gpm and are available in 304 stainless steel or PVC to be compatible with any architecture.
To learn more about Hydroscreen rainwater harvesting screens and discuss your unique project requirements, contact us today.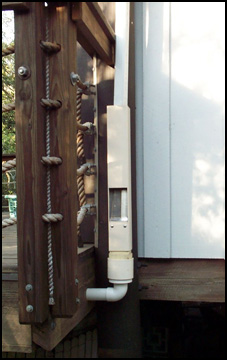 Hydroscreen rainwater harvesting screen system
installed on a home downspout